WiFi Rail delivered live video transmission utilizing their patented network technology for GoPro Bomb Squad Jumpers over the Sears Point Race Track in Sonoma, CA

Another successful proof of concept and technology achieved for WiFi Rail with their successful live video transmission/reception of GoPro Camera Hero2 feed during GoPro Bomb Squad parachute jump from 5,000' over the Sears Point Race Track in Sonoma, CA

Attached clip is edited from screen shot recording of the jump and transmission.


TrainComm 2012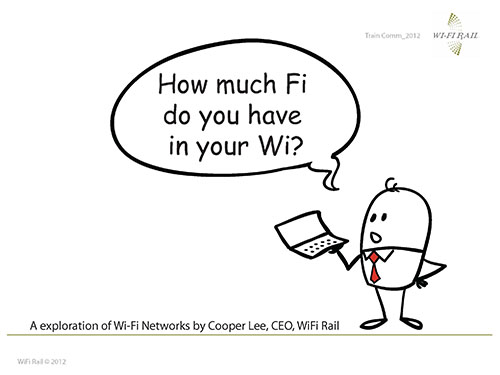 Cooper Lee, CEO WiFi Rail, featured presenter, TrainComm 2012, London
"How Much Fi do you have in your Wi?"
"Underground Sensation"

WiFi Rail featured in BizTechMagazine, December, 2011.


KRON4.COM LIVE COVERAGE IN THE BART TRANSBAY TUBE - JUNE 18, 2009

Jeff Bush takes camera and crew under the San Francisco Bay on BART to watch streaming video and live news broadcasts.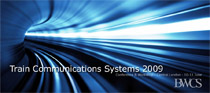 "Train WiFi on the West Coast - A USA Success Story"

Founder, Cooper Lee, and CFO, Michael Cromar selected speakers at TrainComm2009 in London.


"Global Leader Installs First High-Speed Commuter System" - CISCO WiFi Rail Case Study
[Click here to download the Case Study]
Wired BART should please passengers : Janis Mara : Bay Area News Group
January 19, 2009
WiFi Rail announces execution of BART contract.
Click here for full press release.


WiFi Rail named as one of the top five tech companies to watch in 2009.

The next big thing? Five companies to watch in 2009
Investors and industry watchers pointed to rising stars in the region.
High-tech entrepreneurs launch their companies quietly, with the hope of emerging from obscurity by turning an innovative, compelling idea into the next big thing.
The Sacramento region has dozens of such companies, all dreaming of becoming the next Google or Intel, though few startups reach that level of success.
The Business Journal recently conducted an informal survey of a dozen venture capitalists, investors, business owners and other industry watchers to determine the next high-flying companies in the region...

Of the 42 companies that were named as promising up-and-comers, five topped the list: Freepath Inc., IoSafe Inc., PlanarMag Inc., SynapSense and Wi-Fi Rail Inc. [click for link]



Cooper Lee, WiFi Rail's CEO featured speaker at Sacramento's sold out "High Tech Direct" Conference.


The Sacramento region's 13th annual conference to celebrate our growing technology sector :



Mobility Experts
Wireless technology advances are changing the way we do business. Hear about the latest trends and innovations from the experts in a roundtable discussion. Come find out what's next!
Cooper Lee CEO, WiFi Rail, Inc. Wireless Rail Network (Wi-Fi Rail) is a high-speed broadband wireless provider with specific focus on commuter rail lines. The company was founded in late 2005 in response to the demand by commuters for real-time connections. [click for link]


NPR features WiFi Rail on San Francisco/Oakland BART commuter system.


Wi-Fi Provider Bids For San Francisco Transit District
by Cyrus Farivar
Morning Edition, July 7, 2008 · A new California company, WiFi Rail, is close to sealing a deal with San Francisco's Bay Area Rapid Transit district to build wireless Internet access throughout the transit system. If successful, the network would be the largest transit-based Wi-Fi system in the country. [click here to listen to NPR broadcast]


TRAIN COMM 2008 CONFERENCE
WiFi Rail's CEO, Cooper Lee, and CFO, Michael Cromar, featured speakers at TrainComm 2008 in London, England

Providing WiFi access across mass transit environments
A Case Study from the San Francisco Trials
Cooper G. Lee, Founder and CEO and Michael E Cromar, Chief Financial Officer, WiFi Rail Inc




BART Board of Directors greenlights WiFi Rail systemwide implementation. (05/22/08)

WiFi Rail gets a nod from the Bay Area Rapid Transportation (BART) authority's board: The board of the giant SF bay people mover has given a kind of tacit go-ahead for negotiations with WiFi Rail, a company that has been testing a unique form of delivering Wi-Fi using coaxial cable as antenna extensions [read more]
(http://wifinetnews.com/archives/008153.html)



WiFi Rail Nears Completion of Deal with BART

Bob Shallit: Gold River WiFi firm says it's near a deal with BART
By Bob Shallit - bshallit@sacbee.com
Published 12:00 am PDT Wednesday, April 9, 2008

A Gold River startup company is on the verge of a breakthrough deal with the BART system to
provide lightning-fast Internet connections for thousands of daily commuters.
Even while zipping along beneath San Francisco Bay.
WiFi Rail Inc. has been testing its system on various Bay Area Rapid Transit routes for the past
several months. [read more]

WiFi Rail hosts on train demo for representatives from CalTrain and Valley Transportation Authority.
WiFi Rail Completes Installation of Multi-Terrain Demonstration Wireless Network
SAN FRANCISCO, California (January 31, 2008) - WiFi Rail has completed the installation and successful testing of a multi-terrain demonstration of their proprietary wireless network. The demonstration network encompasses four underground stations in San Francisco, interconnecting tubes, and above ground for 2.6 miles at the BART Hayward test track.

"The design and engineering allow for WiFi Rail networks to provide high-speed mobile WiFi access throughout mass transit environments," stated Cooper Lee, Founder and CEO of WiFi Rail, Inc. "These environments include commuter and intercity rail systems, bus and ferry routes, freeways, and others." [READ MORE] [click here for video demo]