WiFi Rail, Inc. is a wireless communications service provider with specific focuses on heavy rail transit authorities.  A key element to being this type of service provider is to deliver an integrated "turn-key" solution that enhances safety, security, operations, maintenance, and passenger amenities. 

WiFi Rail has designed and patented an end-to-end solution comprised of proprietary architecture, wayside and on-train equipment, and an application suite tailored for mass transit metros. An initial deployment and showcase of this technology is currently operational in the San Francisco Bay Area Rapid Transit District (BART). 
The network and applications deployed include above and below ground wayside wireless and fiber-optic infrastructure, our jointly developed on-board Train Communications and Recording Unit (TCRU), and a myriad of applications.  These applications include live and recorded CCTV, centralized train telemetry (data logging), converged communications (VoIP), radio interoperability, location based services, digital media and passenger information, energy efficiency, and public WiFi for passengers. Replication and incremental deployment of the WiFi Rail technology platform require significant support from our partner ecosystem.  Partnerships are in place for wayside and on-board electronics, back office application support, and future hardware and software development.  Deployment management and installation of projects of this size require a partner with experience managing and building with and within the rail authorities Right-Of-Way (ROW).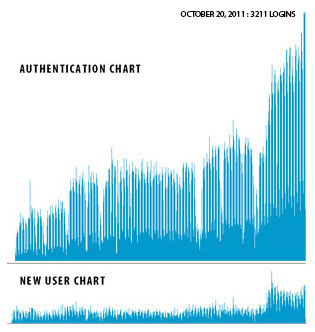 Overview There are many opportunities both domestically and internationally for deployment of the new WiFi Rail technology and business model.  WiFi Rail has identified GE Transportation as the premier partner for the installation, project management, and on-going maintenance and support of new and existing rail authorities.  Additionally, providing GE Transportation with the right to market this technology directly, and be supported by WiFi Rail, enhances our joint market position and provides additional revenue to GE.  Our on-train ruggedized and integrated hardware platform line (TRCU) allows for future joint development and integration of GE software solutions in markets where it is not currently available.  It is anticipated that GE Transportation's Computer Based Train Control (CBTC / CTC), Positive Train Control (PTC), RailEdge products, Loco products, and maintenance software solutions could all be enhanced or integrated with our TCRU product line.



WiFi Rail Particpates in Bay Area
2012 Urban Shield Exercises


WiFi Rail Offers Mobile Communications
System Solution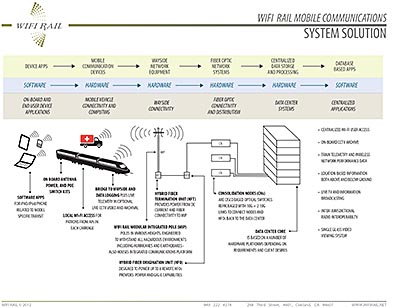 WiFi Rail delivered live video transmission
utilizing their patented network technologyover GoPro Hero2 Camera with the GoPro Bomb Squad Jumpers over the Sears Point Race Track in Sonoma, CA




WiFi Rail introduces specialized product line.
Items can be purchased individually or incorporated as part of complete network system. Click here for more information, ordering options, and pricing.





WiFi Rail and McLaren Electronic Systems partner to develop WiFi enabled real-time video, data and Internet systems for passenger railway systems.

These systems exploit WiFi Rail's patented high bandwidth wireless connectivity to trains and McLaren Electronic Systems' real-time telemetry technology gained over 20 years at the highest levels of professional motor sport. McLaren Electronic Systems develops, manufactures and deploys control and data systems for motorsport, automotive, aerospace and general transportation markets. It is the official engine control unit (ECU) supplier to the FIA Formula One World Championship, NASCAR Sprint Cup and IZOD IndyCar racing series.

TrainComm 2012: Cooper Lee, CEO WiFI Rail, Selected Presenter - "How Much Fi do you have in your Wi?"-






CLICK HERE : News ARCHIVES